Day Unemployed: 2
Jobs Applied To: 10
So I'm still trying to work through this whole "being a girl" business and while we were on vacation, I was informed that I am not properly washing my face. The lovely woman who took care of me at the Spa told me my face washing methods was 100% incorrect. Who knew something like washing your face could be such a big deal?! I thought I was doing the right thing, I use an Aveeno scrub in the shower each morning, I blot with oil absorbing sheets throughout the day if I feel a little greasy and then at night I wash the day's dirt off my face with an unscented Dove bar.
I had heard years ago that the unscented Dove bar was the greatest product to use when washing your face and that it was even recommended by dermatologists. How could I go wrong? Well when I broke down my facial cleansing routine to Karin (spelled with an "i" like my cousin) from South Africa, she, in a very sweet accented voice, asked me why on Earth I would use soap on my face? She then went on to explain that soap is soap no matter what kind of moisturizers the manufacturer puts in each bar. I was further informed that exfoliating my face should only be done one to two times per week rather then daily like I had been doing.
Now I don't tamper with a lot of "products" especially when it comes to my face. I moisturize in the morning after my shower and aside from the daily Aveeno scrub and the Dove bar at night, I don't use anything else on my face. Well, at the advice of my South African pampering guru, I have now added a soothing Deep Cleanser and Alcohol-Free Toner to my daily routine.
I've had blackheads on either side of my nose that I just haven't been able to get rid of and I didn't understand what the deal was. I mean I wash and exfoliate everyday, what more can be done? Karin explained that using the facial cleanser at night followed by the toner, would remove all access dirt accumulated throughout the day and make my pores smaller, decreasing my chances of getting blackheads. She said that the toner was the greatest product for this because even after washing, your face still has access dirt that the toner washes out.
Granted after our session she tried to get me to buy each of these products at the Spa store for a whopping $30 bucks a pop to which I kindly turned down, opting instead to put that money towards her tip (which I think is a nicer investment don't you agree?) Instead I went out and found nice name brand products in the store for a more fiscally responsible $6 dollars a pop. Here's what I got:
Now, L'Oreal has a variety of deep cleansers but this one is exfoliant-free and specially formulated for sensitive skin. Given my recent sunburn, I figured this would be a good product to try out. It even comes with this super cute handheld facial scrubber tool that sticks to the shower wall when not in use. It's squishy and very soft and makes washing your face a very nice experience. Now, I washed my face after taking a shower and was shocked to discover Karin was completely right. I used the toner a sure enough, access dirt was on the cotton ball and my pores were, for the first time, completely clear! Hello?! I showered and washed my face and there was STILL dirt in my pores?! How rude!
Boy am I glad I treated myself to a morning at the Spa, I learned so much! Hopefully my skin will start to improve and my pores will no longer be plagued with blackheads.
Here's the fabulous toner I picked up: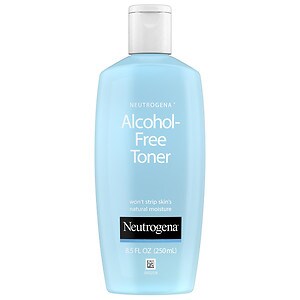 This stuff is great! It's really refreshing on your skin and doesn't sting because it's alcohol-free. I have used other toners before and after feeling stinging and irritation on my skin, was completely turned off from the product but this stuff has totally made a believer out of me.
So the new routine, moisturize after showering in the morning; deep cleanse and then tone at night. Exfoliate one to two times per week. I think I'll designate Fridays and Sundays as my official exfoliating days. Those are the days I usually shave my legs so why not round off the weekly upkeep with a good facial scrubbing? Sounds like a plan.
Having clear skin that makes me look my age? I like it!